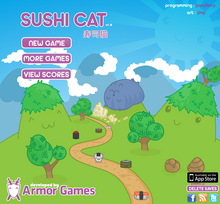 This page is about the first game. For the character, See Sushi Cat (Character)
Sushi Cat is an Adobe Flash / IOS / Android game. The plot is that your a Blue Feline, Trying to get a Pink Cat Plush. You must eat sushi to win levels, And then earn the Plush.
IOS / Android Version
Edit
A mobile version was created for IOS / Android. The IOS Version Costs 3.99 when the Android Version is free. Honeymoon comes packed with it.